The Funen coasts are amazing. For many years, we have enjoyed ourselves as active surfers. Fynsurfskole will focus on coastal activities with windsurfing, kite surfing and SUP. When looking at Funen from a surfing perspective, we have an area that is extremely attractive. Funen has shores that fit all wind directions. In addition, Funen offers countless flat water areas that are good when learning to surf. We have chosen to be 100% mobile so we have the opportunity to utilize Funen's full potential!
The surf environment in Denmark and especially in Funen is unique. We find that in the environment there is a strong unity and community across the age groups and the demographic gap. Here is short space for everyone.
We offer courses in windsurfing, kite surfing and stand up paddle for both private, groups, events, schools and institutions. Our activities are different, but fun in their own way. Everyone can learn to surf and we do the courses to suit the simple level.
We are two very passionate surfers with their feet planted solidly within the sport. We have been with almost everything from the beginning, and made us many experiences in sailing, teaching and adventure. Otherwise, 1994 began to produce windsurf boards and later kiteboards. Lasse has sailed in the Danish rankings since 2007, for which he is still actively involved. The sport has taken us around the world and given us many wonderful experiences. We look forward to giving our experience and enthusiasm for the sport to you through real and trustworthy teaching and guidance.
Hang loose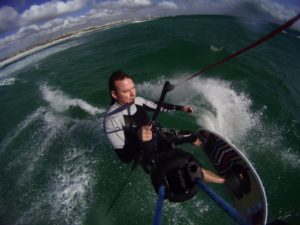 ANDERS BORG
47 YEAR - WITH OWNER / WIND - KITE - SUP INSTRUCTOR
Anders has been windsurf since 1984, kitesurf since 1999.
Driver Borgssurfshop with production of wind and kite surf boards, as well as repairs and sale of equipment. Anders always provides good service in the store and on the stand. Anders is a trained instructor at the Danish Sailing Union, teaching windsurfing, kitesurfing & SUP. In addition, Anders is a Danish sailing union and helps train other instructors.
Funen Surf School - Windsurf, Kitesurf, Sup
LASSE NAKSKOV
28 YEAR - WITH OWNER / WIND - KITE - SUP INSTRUCTOR
Lasse started as 10 year to sail optimist dinghy, later windsurfing and then kite surfing. He has traveled around the world with the sport and cultivated kite surfing at the competition level in 8 years. Lasse has a completely natural calm when he teaches. He quickly adjusts to the simple student's wishes.
Lasse is a trained instructor at Dansk Sjøunion, and has taught at the surfing page 2009 for Bogsurfshop and oure sport & performance.
Funen Surf School - Windsurf, Kitesurf, Sup